Chicago Truck Accident Lawyer
Commercial trucks are large, heavy-duty vehicles that can cause significant harm to passenger cars. The drivers of these vehicles have a responsibility to adhere to state and federal regulations for hours of service, cargo loading, weight limits, and more. Unfortunately, some truck drivers commit dangerous acts on the road—leading to catastrophic accidents and severe injuries.
If you are in a Chicago truck accident, trust the attorneys at Taxman, Pollock, Murray & Bekkerman, LLC to help. Our accident lawyers will work with you to hold the driver and his or her employer accountable for your injuries, recovering the compensation you deserve. Call us today at (312) 586-1700.
Why Choose Us For Your Truck Accident Case
Our accident attorneys have over decades of experience representing clients in all types of personal injury claims, including truck accidents.
Our firm has a strong track record of successful settlements and jury verdicts, recovering over $400 million over our years of operation.
Our lawyers have developed a wide breadth of resources and a network of expert witnesses that we will leverage to strengthen your claim.
Page Navigation:
Why Truck Accidents Can Be Especially Dangerous
While trucks are a common sight on our Illinois roadways, they can pose a serious threat to our safety. Trucks often weigh 20 to 30 times as much as typical passenger cars. A fully loaded semi-trailer can tip the scales at as much as 80,000 lbs. or 40 tons. Trucks are also longer (approx.70 -80 ft.) and taller (approx. 13' 6") than standard passenger vehicles. Therefore, trucks take 20-40 percent more braking distance to reach a complete stop as compared to a standard car.
When a truck is involved in an accident, its size and weight become a powerful and destructive force often causing serious injury or death to those in its path. Being involved in a collision with a truck is a tragic and life-altering event that can result in profound physical, emotional, and financial losses. If you've suffered injuries from this collision and suspect that someone is at fault, you can seek monetary damages with the aid of a truck accident attorney. Our skilled commercial truck injury lawyers at TPMB are committed to maximizing the financial recoveries of their clients to compensate for these losses.
Common Causes of Trucking Accidents
Accidents caused by truck drivers result in severe and often fatal injuries. What makes these disasters more upsetting is the fact that many of them are preventable. Road tragedies often occur due to truckers and companies cutting corners in the interest of meeting deadlines.
Among the commonly cited factors in major truck crashes are:
Brake Issues – Trucking firms may overlook routine maintenance to save on time and costs. Unfortunately, failure to maintain truck brakes creates conditions that result in a serious or fatal crash or collision.
Going beyond the Speed Limit – Drivers sometimes go past the speed limit to meet deadlines. This, however, puts other road users at risk of getting involved in an accident.
Unsafe Driving Practices – Spending hours or days driving can become tiresome, which may cause some truckers to become less safe with how they use their vehicles. Apart from speeding, unsafe practices include road rage, failure to use turn signals, and frequent lane changes.
If the driver or the trucking company has been negligent, the injured party may file a claim with the aid of a truck accident lawyer. An attorney who specializes in trucking injuries has the legal expertise and skills necessary to investigate accidents completely and determine fair compensation for the victims.
Truck collisions are often needless and preventable. TPMB's team of lawyers is committed to aggressively investigating and determining the causes of truck collisions on behalf of our clients and their families. Common causes of trucking collisions include:
Alcohol or drug use
Defective Truck Equipment
Disregarding traffic control devices
Distracted driving
Driver fatigue
Failure to maintain a proper separation distance
Illegal maneuvers
Improperly loaded cargo
Improper maintenance
Inattentive driving
Inexperienced and inadequately trained drivers
Misjudging of road or traffic conditions
Overcompensation or poor directional control
Speeding/Driving too fast for conditions
Unsafe lane changing
Determining Liability in a Truck Accident
Depending on the circumstance of the accident, you and your reliable truck accident legal counsel may pursue a claim or file a lawsuit against any or all of the following:
The Truck Driver –This individual may be financially liable for any injuries or deaths if his/her recklessness or negligence contributes to or causes an accident.
The Trucking Company – You can hold this entity responsible for negligent corporate policies, poor truck maintenance, inadequate training, and negligent hiring practices.
Truck Manufacturers –If the vehicle that hurt you contained defective parts, you and your trusted truck attorney can seek compensation from the manufacturer.
If you're not sure of the actual party at fault, it's a good idea to discuss your case with a knowledgeable semi-truck injury attorney.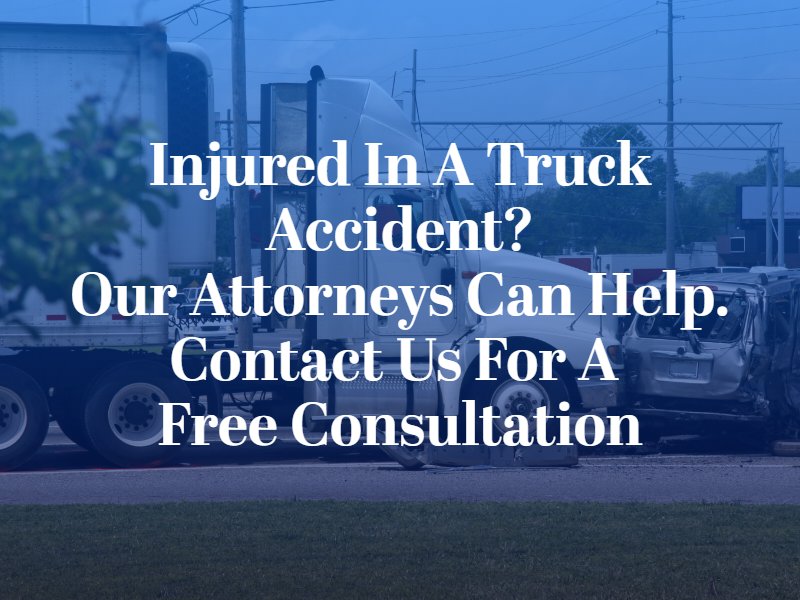 Legal Options for Chicago Truck Accident Victims
If you are in an accident with a Chicago truck driver, you have many legal options available to you. You will need to identify the cause of the accident before you file your claim. This information will allow you to name the liable party and take the appropriate steps to recovery.
First, you could file a personal injury lawsuit against the driver for your damages. If the driver is an employee of a trucking company, you could also name the company in your claim. In truck accident cases where a defective part caused your crash, you could file a product liability lawsuit against the manufacturer responsible for the product.
To prove your right to compensation in a personal injury lawsuit, you will need to gather sufficient evidence to prove four key facts.
The at-fault party owed you a duty of care at the time of the accident. Truck drivers and their employers have a duty to follow the law, including traffic laws and trucking regulations.
The at-fault party breached the duty of care in some way. A driver who operates his or her vehicle while under the influence of drugs breaches the duty of care, and a trucking company that fails to perform regular maintenance also breaches this duty.
The breach of duty directly caused your accident. For example, say you are in an accident after a driver falls asleep at the wheel due to driving over his allotted hours. If the driver had taken his required rest period, the accident is not likely to have occurred. You can use evidence such as witness testimony and the driver's log books to prove this causation.
You sustained damages in the accident that you can claim in your lawsuit. Common damages in truck accident claims include medical expenses, lost wages, and pain and suffering.
For product liability claims, you will need to prove the following four elements.
You sustained injuries or suffered losses.
The product in question is defective.
The defect caused your accident and resulting injuries.
You—or the driver—used the product as the manufacturer intended.
You can use many pieces of evidence to establish these facts, including medical records, surveillance footage, and documents from the trucking company, such as maintenance records. Your attorney from Taxman, Pollock, Murray & Bekkerman, LLC may also consult with expert witnesses to strengthen your case, including accident reconstructionists and medical professionals.
Frequently Asked Questions
Why should I approach a commercial truck accident attorney for my accident claim? Trucking firms work hard to reduce liability so that accidents do not cost them too much money. Their insurance company adjusters and lawyers do everything they can to try to reduce the amount of compensation that is paid to accident victims.
When you hire a reputable truck accident lawyer, your chance of getting an appropriate settlement will be much higher than taking on the claim on your own. Your attorney's legal team can level the playing field, as they represent your interests.
What steps should I immediately take after a truck crash?
Getting medical attention is the first thing you should do, especially when you've sustained severe or serious injuries. Beyond that, you need to:
Report the accident to local law enforcement authorities
Refrain from speaking with insurance adjusters or the representatives of the trucking company
Take pictures of the scene of the accident to record vital details, such as the damage to vehicles and other property
Retain any documentation of accident-related costs, such as surgical expenses, and provide your legal counsel with a copy of the documents
When Should I Hire A Truck Accident Attorney?
You should reach out to a qualified lawyer as soon as possible. Obtaining legal advice quickly enables you to gather as much information as you can to back your claim and secure fair compensation.
The legal team at TPMB is experienced and well versed in the complexities of trucking accident cases. Obtaining evidence plays a crucial role in investigating any trucking case. There are many different types of evidence that can assist our TPMB legal team in identifying the cause of a truck accident. The trucks themselves are equipped with electronic data recorders, also known as a "black box."
An expert may be able to download and analyze data from the black box to determine information about the operation of the truck at the time of and immediately prior to the collision. Drivers are required to keep logbooks regarding their driving activities. This is because truck drivers are under constant pressure to meet time deadlines; a driver's lack of adequate rest may lead to sleep deprivation.
A drowsy trucker that doesn't take mandated scheduled breaks can cause a collision. Each case is different. Depending on the facts, other crucial evidence may also exist with trucking companies, brokers, shippers, warehouse operators, and others connected to the truck, its trailer, or load being transported.
There is also a multitude of state and federal regulations that address the trucking industry, including the Illinois Department of Transportation (IDOT) and the Federal Motor Carrier Safety Administration (FMCSA). These regulations have safety requirements that truck drivers and truck companies must follow. The lawyers at TPMB are knowledgeable in these regulations and utilize them to assess and prosecute any violation.
Many different types of large trucks use our highways. Examples of these trucks include agricultural trucks, box trucks, bucket trucks, car carriers, cement trucks, dump trucks, flatbed trucks, tank trucks, tow trucks, semi-trailer trucks. They travel on our city streets, rural roads, and highways throughout the state, including on I-55, I-88, I-90, I-94, I-294, I-355, I-390.
No matter where a truck collision occurs in Illinois, the legal team at TPMB is here to help you and is ready to mobilize.
Free Consultation With A Truck Accident  Attorney In Chicago
If you or a loved one needs help, it will cost you nothing to discuss your injury case with an experienced Chicago truck accident lawyer. Give us a call anytime or contact us via the form below.